Suspended Ceilings & Partitioning Specialists
Design Grid Ltd are a family run business that specialise in plasterwork, metal stud partitions / wall linings and suspended ceilings. We also offer fire protection, demountable partitions, Metsec partitions, thermal insulation and hygienic wall claddings.
We currently employ between 60+ operatives directly, depending on workload and have a comprehensive programme of training which has enabled us to achieve Investor in People status.
We are members of Construction Line & Acclaim safety accreditation so you can be sure that we take our Quality and safety commitments very seriously.
We offer a nationwide service & specialise in the Retail, Commercial and Construction sectors!
The directors have over 30 years experience in this field, with a commitment to ensuring that our reputation for quality & safety continues into the next generation.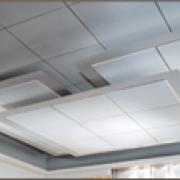 Suspended Ceilings
Design Grid Ltd can install a wide range of suspended solutions: Grids and accessories for all ceiling suspension requirements: 15mm, 24mm, 35mm, bandraster, designer grids, and a comprehensive range of performance systems like corrosive resistant, clean room or seismic suspension systems, for special applications such as swimming pools and healthcare environments. The Canopy systems we use, allows specifiers to play with different planes and levels to create floating 'ceiling clouds'. Special sizes, colours and shapes are also available.
Call our experienced staff today ...

Metal Stud Partitioning
The modern, engineered alternative to traditional timber and blockwork construction, wall, ceiling and floor systems are quicker and easier to install, whilst meeting the highest performance requirements.Up to 50% lighter than equivalent timber systems, and up to 70% lighter than blockwork, Gypframe metal products are easier to transport and offer a high strength to weight ratio for guaranteed performance and long life.
Metal frame components are easy to cut on site, non-flammable and won't rot, twist or warp. They can be stored outside and installed in any weather, making it easier to schedule work.
Call our experienced staff today ...

Fire Protection
fire stopping solutions ensure that the fire resistance of protected walls, floors and roofs is never compromised by services or voids.
To stop fire spreading, UK Building Regulations insist on effective compartmentation, where fire, smoke and gasses must be kept for as long as possible where they have originated. Our range of fire-stopping products ensure that cables, pipes, trunking, or ductwork, or the voids that they pass through, don't provide the weak link through which fire can spread.
Call our experienced staff today ....
Projects and Clients
We have completed projects for small independent retailers as well as well known companies such as:
Boots
Iceland
Home Bargain
Specserver
Schuh
Costa Coffee
River Island
We are also experienced in larger commercial projects such as:
Dumfires and Galloway Royal Infirmary
Ulverston Hospital
Melrose Hospital
West Cumberland Hospital
Nelson Thomlinson School
Annan academy
Carlisle Police HQ